History of the Mary Culver Home
History of the Home
In 1866 at the Missouri School for the Blind, nine girl students decided to form "The Blind Girls' Industrial Band," with the goal of establishing a permanent residence for worthy blind girls. These young women were Alice Hill, Nettie McNish, Kathie McGinness, Marie Anderson, Cordelia Richardson, Ella Adams, Emma Bayless, Amelia Goerish, and E.P. Scott. With a treasury of not quite two dollars, but great energy and determination, they set forth to make their dream come true. They earned money making brooms and doormats, taking in laundry, selling their garden produce, and giving performance recitals in the community. Aid from many friends in the city added to their own efforts. Mr. James Yeatman, an early advisor, faithfully managed their funds.At first "The Band" shared quarters with other philanthropic organizations, but in the 1880s they struck out on their own, establishing their first home at 1828 Wash Street, described as a "commodius three-story brick building finished in a substantial manner." After nine years at this address, they needed more room, so they purchased and remodeled the old Nicholson mansion at 1214 North Garrison Avenue.By 1905, the corporate name of the organization was the "Blind Girls Home." The annual report for that year showed residents working and praying for more space so they could accept the increasing number of applicants from the Missouri School for the Blind.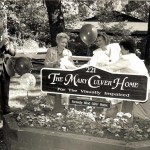 The answer to their prayers came in the form of Mrs. Mary Elizabeth Culver. Her substantial gift enabled the young women to build a home specifically designed for their needs at 5235 Page Avenue. On Thanksgiving Day in 1909 the 38 members of the Blind Girls Home, quietly, but with hearts full of joy and gratitude, took possession of their new residence.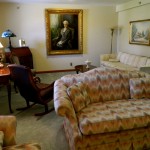 When the Blind Girls Home celebrated its 50th anniversary on Page Avenue, three of the original 38 women were still living there. But times were changing, and no young women were moving into the home. The board of directors decided a new home would better accommodate the needs of aging blind residents. After an extensive search, the board purchased the property at 221 West Washington in Kirkwood, and selected the architecture firm of Hellmuth, Obata + Kassebaum to design the new home. On October 24, 1966, the residents moved into their Kirkwood home, and in 1993 the board changed the organization's name to the Mary Culver Home for the Visually Impaired in honor of their benefactress.
Meet Mary Culver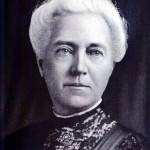 A look back at the life of Mary Culver* is to peer through the window of westward expansion and economic development in the United States. Mary Elizabeth Comegys was born March 19, 1841, in Champaign County, OH, during the administration of President John Tyler. She was one of nine children, three sisters, two brothers, two half-sisters, and two half-brothers. The family moved to Vermillion County, IN, while Mary was still a young child. At the age of 19, she married Lucius Lewellyn Culver in Danville, IL, and resided there throughout the Civil War.
The couple relocated to St. Louis, MO, in 1876. L.L., as Lucius was known, and his two brothers worked as traveling salesman for a stove company, selling their wares from mule-driven carts. The brittle cast iron parts tended to break, and it was difficult to obtain replacement parts for their customers. The brothers started the Wrought Iron Range Company so that they could improve on the manufacturing process and deliver a better product.
L.L. parted ways with his brothers in 1890 and founded the L.L. Culver Manufacturing Company. He reorganized in 1891 as the Majestic Manufacturing Company and served as president. According to family legend, Culver named his company for the steamship he and Mary took on an earlier trip to Europe. During this time he also brought in his neighbor Robert Stockton, as a partner. The company took off with the Majestic malleable iron range. Proud of his accomplishment, Culver declared,"There is no more practical range on the market."†
Histories of the time describe Culver as a man of strong character and inventive genius. He was also noted for his enthusiasm, energy, good judgment, and vision. The Culvers never had children and instead dedicated themselves to far-reaching philanthropic works.
L.L. Culver died in 1899, leaving Mary to carry on his many charitable endeavors. In 1912, she and Stockton made a sizable donation to Christian University in Canton, MO. In response, the board of trustees adopted a resolution in 1914 to change the school's name to Culver-Stockton College.
Great grandniece Betty Anna Howland described Mary Culver as a dignified lady, with a stately carriage who dressed well and had a gentle expression. According to the book In Memoriam Lucius Lewellyn Culver (Culver-Stockton College Archives), "her life is a long record of constant devotion to her husband during his lifetime and of watchfulness for opportunities to do good."
When Mary Culver died at the age of 84 in 1925, she bequeathed a total of $1,275,000—an enormous sum for the day—to the following organizations:
The Blind Girls Home
Washington University
Kingshighway Presbyterian
Children's Hospital
Memorial Home
Christian Hospital
Christian Orphans Home
Mission Free School
Father Dunnes Newsboys Home
Catherine Springer Home for Girls
Colored Old Folks Home
Riverside Mission
Home for the Aged/Infirm Israelites
Home for the Friendless
American Sunday School Union
WCTU
Culver Hospital, Crawfordsville, IN
Majestic Stove Company employees
Culver-Stockton College
The Blind Girls Home received one of the largest single gifts. At the 25th anniversary celebration of the Blind Girls Home's location in Kirkwood, residents, staff, and board members heard a presentation about Mary Culver from Glenn W. Kelley, Director of Development for Culver-Stockton College. "Mrs. Culver left us a legacy of love at its finest and philanthropy at its purest. By being a true lover of mankind, she showed us how love can multiply. Not that many of us can give money as she did, but her example of caring about and for one another is what showed through and can multiply for us in day-to-day living."
The board honored her legacy publically by adopting the name "The Mary Culver Home for the Visually Impaired" in 1993. Although the Blind Girls Home has evolved from a residence for blind women, its current mission as a nursing home for blind women is still imbued with the spirit of Mary Culver to create a culture of good care and caring.
*Much of this history was modified from the booklet, Mary E. Culver, written by her great grandniece Betty Anna Howland in 1973.
†St. Louis: The Fourth City, 1764-1911, vol. II, by Walter Barlow Stevens, The S.J. Clarke Publishing Co., 1911, St. Louis.